BACKFLOW PREVENTION
BACKFLOW PREVENTION
It is the Apache Junction Water District's priority to provide quality service and safe drinking water to its customers. To help achieve this goal the Backflow Prevention and Cross Connection Control Program was implemented and enforced in accordance with the rules and regulations set forth by the Arizona Administrative Code, to ensure that contamination of the public water system from all potential unprotected cross connection can be minimized with the installation of approved backflow prevention assemblies.
The water distribution system is designed to keep water flowing to the customer - evenly and consistently. Sometimes the normal flow is reversed by back-siphonage or backpressure. Backflow is the undesirable reversal of flow which could allow water that has gone through a customer's water meter back into the distribution system. When this reversal of flow happens, contaminated water can enter the distribution system through a cross-connection.
A cross-connection occurs when there is a connection between potable (safe to drink) water and non-potable water supplies. The Apache Junction Water District has a cross-connection control program (backflow prevention program) as required by state code to protect the drinking water supply from contamination caused by backflow.
(Photos of commonly installed backflow preventers. Additional examples can be found below in the document section.)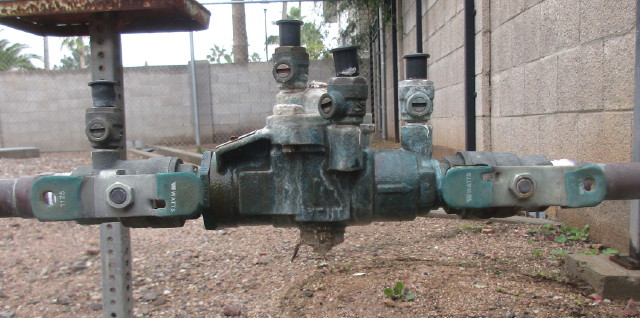 3/4" Reduced Pressure Backflow Preventer
2" Reduced Pressure Backflow Preventer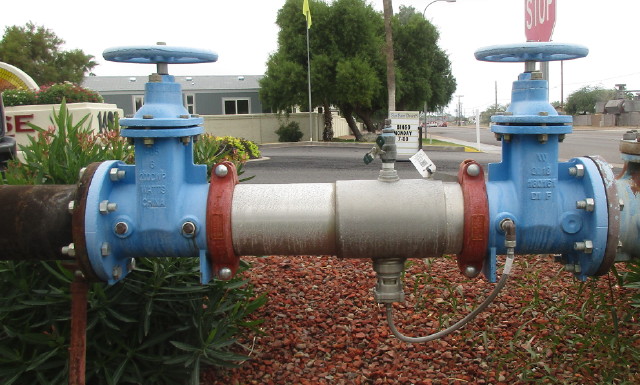 8" Reduced Pressure Backflow Preventer
ANNUAL TESTING AND TESTER INFORMATION
All required backflow prevention devices must be tested at least annually or more frequently if recommended by the manufacturer. All costs for tests, repairs, and/or backflow assembly replacements will be at the owner's expense.
Test notices are sent out annually 45 days in advance of when the assembly to be tested is due. Non-compliance with the requirement to perform the annual testing will be subject to water service termination.
Documents: